Alternative finance has been gaining more and more momentum throughout the years. Its role is becoming even more crucial especially now that the traditional financial systems are failing to provide the services they were designed to. In this post, we look at the global financing gap, the disadvantageous credit conditions for Micro, Small, and Medium-sized Enterprises (MSMEs), and the implications for alternative lending markets.
With the belief in future economic success, credit, issued by financial institutions is commonly known as the backbone of economic developments. A financially sound system may be characterized by a sustainable balance of supply and demand for financing. In reality, this service is provided unequally across markets, adding to the imbalance of power between large and small corporates and putting a burden on entrepreneurship and innovation.
The global financing gap is an estimation by the SME Finance Forum as the difference in financing supply available and potential local demand. Effectively it measures the need for external funds for the private sector which could potentially be addressed by financial institutions. The estimation assumes that the restricted firms have the same willingness to borrow money and would exhibit that willingness akin to their counterparts in developed countries if they were given the opportunity.
The first well-known estimate of a global financing gap was given by the IFC and McKinsey in 2010. Back then, the circulating number was $2 trillion per annum. With more statistically sound data, the current global finance gap for MSMEs has been reassessed to amount to a staggering $5.2 trillion per year.  For reference, $5 trillion is roughly the sum provided by global governments in Covid-19 relief packages by June 2020, according to the IMF. In other more SMEs, mostly in developing markets, miss the same amount of funding that is now being pushed into the economy in a massive rescue and mitigation effort – every year!
The financing gap represents the aggregated failure of our global financial markets. It highlights how we neglect the importance of SMEs in our societies and economies. 9 out of 10 new jobs worldwide are created by small businesses. They contribute the largest share of GDP, play a crucial role in economic development and foster entrepreneurship and innovation. We rely on these businesses, not only in emerging markets, where we will need nearly 3,3 million jobs per month to absorb the growing workforce, but everywhere.
The map below shows the current financing conditions for Micro, Small and Medium sized Enterprises in developing economies. Given their underdeveloped local capital markets some MSMEs are calling for 3,4, or 10 times the amount of financing available.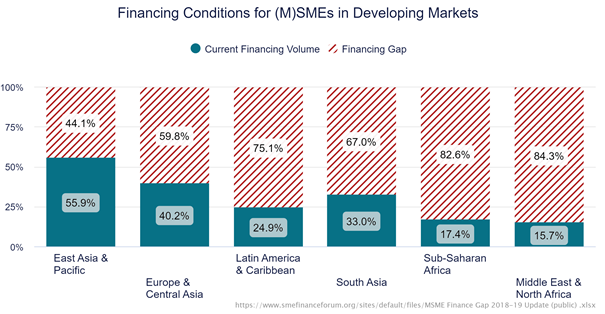 As these economies maintain momentum in their development, only few will be able to mobilize the necessary funds to finance their businesses. Assuming that their growth trajectory and subsequent need for financing will continue, few will be able to mobilize adequate financing volumes necessary to maintain momentum.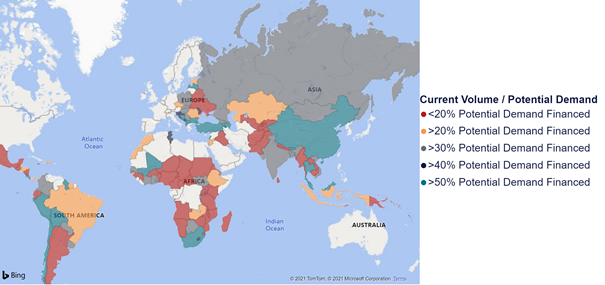 Without sufficient access to credit or suitable alternatives, MSMEs may be forced into detrimental credit conditions.
Credit is a function of available capital and interest rates are subsequent, hence it is unsurprising that interest rate levels for MSMEs vastly exceed those for established companies. The global average interest rate spread between small enterprises and large corporates hovers between 2 and 2.5 percentage points. Since 2010, a slight decrease from 2.48% to 2.18% has been observed. In emerging and developing markets, most foremost Latin America and Eastern Europe, the overall interest rate level and spread between small and large companies is significantly higher.
This discrepancy in financing costs is vicious; (M)SME's are adversely more affected by high financing costs than larger enterprises; they already operate under more uncertainty, higher stress and have lower liquidity reserves to balance economic downturns.
Looking at the global financing gap and the disadvantageous credit conditions for MSMEs the imperative for alternative lending operations becomes obvious.
Digital Lending To Improve Access to Financing For (M)SMEs
Where banks fail to provide adequate services, alternative finance may step in. With a distinct focus, innovative mindset and by leveraging the power of technology, they mitigate information asymmetries, automate application and KYC processes, and enable those previously excluded from traditional credit markets to receive much-needed financing – in a convenient, cheap and efficient manner. While the infrastructures are being built to distribute credit to borrowers in need, we are far from achieving a sustainable digital lending ecosystem. Digital lending processes can only work with digital funding processes.
At Exaloan we aim to mitigate the discrepancy in available financing and supply by institutionalizing and digitalizing funding processes for alternative lenders. Why? Because our lending platform partners perform an essential service to society, by standardizing and automating investments in digital lending. Exaloan offers an infrastructure to allocate institutional capital into the markets that demand it.
This document is provided for informational purposes only and does not constitute investment advice and must not be relied on as such. This document may include information that is based on assumptions, models, and/or analysis as well as on data provided by external sources. While having applied due care and diligence in preparing this document, Exaloan makes no representation or warranty as to the completeness, accuracy, or reliability of the information provided. Exaloan takes no responsibility to update this document or any of the information contained herein. Actual developments may differ materially from the opinions expressed herein. Past performance is not necessarily a guide to future performance.